Season 9
entry on the
If Clothes Could Talk Master Post
.
After I post this I'll put the link on the SuperWiki too.
Now, let's go to the fun bit - Charts and Graphs!
In Season 9, it appears both Sam and Dean took advantage of having a permanent residence, by buying more clothes:
(We can also see that while Dean is still wearing a LOT of clothes from S1 and S2, he's also favouring S8 clothes. Whereas Sam seems to favour clothes purchased in S3 and S6. This is perhaps the first year where Sam didn't wear ANY clothes from S1. Dean, likewise, did not wear anything from S6.)
Dean bought an unprecedented 7 new shirts, plus two new jackets and a new white henley. Sam once again concentrated on acquiring more plaid shirts, and only bought one new jacket: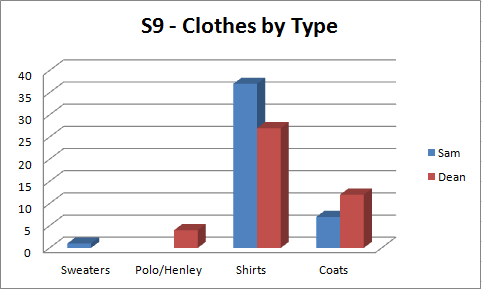 Overall, though, Sam and Dean both wore nearly the same number of different clothes in the season, which is rare, as usually Sam carries far more clothes than Dean does. In Season 9, Dean only had two articles of clothing less than Sam:
So, what kind of shirts do Sam and Dean favour?!
Well, overall, Dean is wearing more plaid than usual, but he still favours plain green, grey, or beige shirts. (I stuck Tan in there too, because it's similar to beige):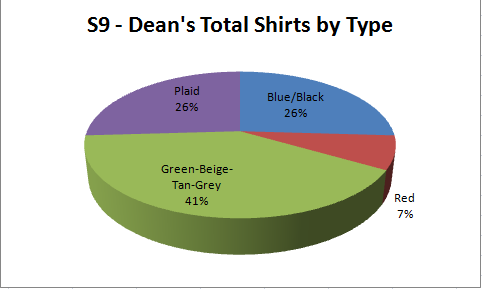 Most of Dean's plaid, however, was bought in S9: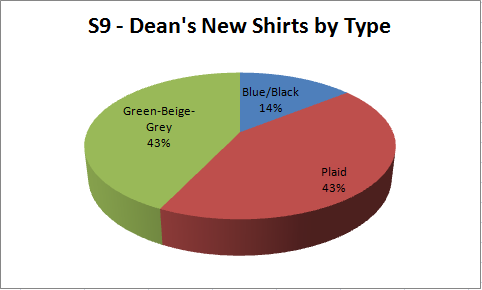 Sam, meanwhile, continues his love affair with plaid in a big way: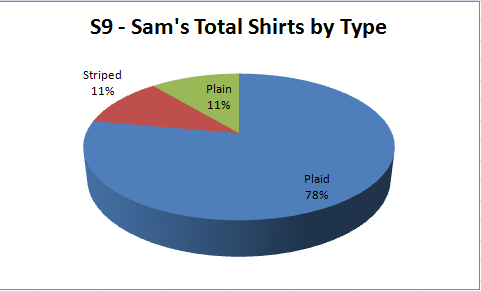 Sam loves plaid so much that he ONLY purchased plaid shirts in S9 - and overall, he really prefers blue plaid, with 7 our of 10 of his new shirts being blue:
And there you have it! Make of it what you will. :)
You can check it out by clicking the
Current Mood:

accomplished