Sam's Gorgeous S6 Blue Plaid Shirt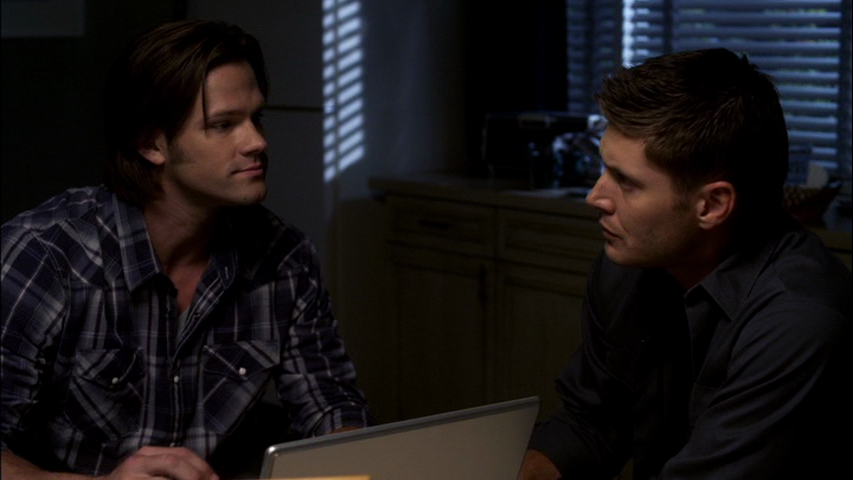 I love this shirt. I think the blues in it are very nice. Besides being particularly fetching, this blue plaid is Sam's standard – western style, with snaps, and the plaid running diagonal on the breast pockets and shoulders. It's a medium plaid in varying blues and white.
APPEARANCES:
Sam first wears it in
You Can't Handle the Truth
(6x06), after he finally changes out of his suit after finding the spell-box, and he and Dean research at the motel and figure out what they are hunting. He keeps it on until part-way through watching the footage stolen from the television station (by the time Dean is eating pizza, Sam is reviewing the footage with only a t-shirt on.)
In
All Dogs Go To Heaven
(6x08), this might be the shirt that Sam wears while he and Dean follow Cal around on his drinking binge.
In
Let It Bleed
(6x21), Sam wears this shirt when Dean is busy torturing demons, and Sam tries to pray to Castiel.
In Repo Man (7x15), Sam is wearing this shirt when he and Dean jump Jeffrey in the alley. He keeps it on until the end of the episode.
In Of Grave Importance (7x19), Sam MIGHT be wearing this shirt at the beginning of the episode while he and Dean have a snack on the hood of the car they are using.
FATE:
Unknown (I hope it lives forever)
Possibly worn by Jared:
November 2009 Salute to Supernatural Chicago. (
source
)
Master Post