So, yesterday I was friended by
nwspaprtaxis , who happens to like my If Clothes Could Talk project. We got to talking about how I should totally make graphs and visual representations for my clothing stats - because I guess we are both dorks. Anyway, I said I would look into it on the weekend...

But um...I love charts and graphs! And I needed something to do last night to cheer myself up...so, I present....

SEASON 1: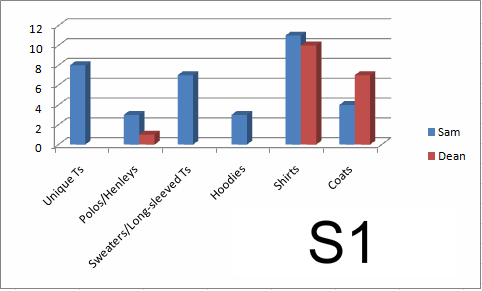 SEASON 2: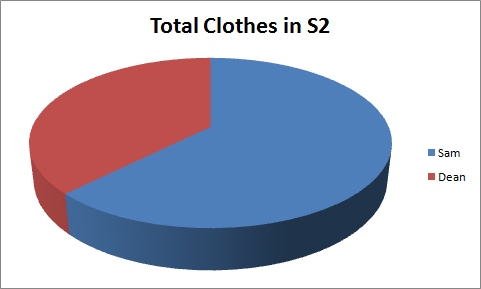 Sam and Dean don't always wear all the clothes they own, so the following bar graph also keeps track of how many clothes remain "packed" (that is to say, they were used in the previous season and the next season, but not the current season):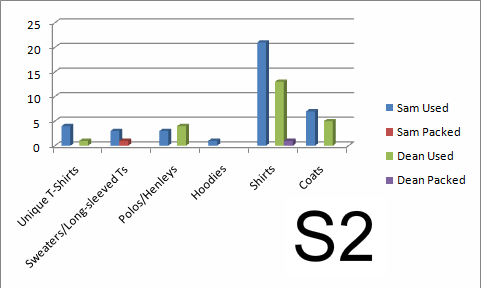 And there you have it! Now...just as I was putting those charts in this post - I realized that there's a shirt introduced in S3, that Dean has actually had since high school (ETA: entry here)...so technically, Dean's "packed" shirt count in S1 and S2 is off by one. Sigh. Is it worth redoing all the charts? Probably not. Let's pretend he found the shirt in John's storage unit in Black Rock.



(Sam is terrified by the monster I have become! ....or maybe he is trying to demonstrate why he needs more clothes than Dean.)

I have added them to the Season 1 and Season 2 master lists. I'm still working on posting S3, but I will say that if you think Sam has way more clothes than Dean NOW.....

Enjoy!