I just watched Children Shouldn't Play With Dead Things (2x04) again to take screenshots and catalog the clothes for that on-going pointlessly time-consuming project of mine. And I noticed a few things:

1. Jensen has an extra chain around his neck in several scenes in the episode. It's tucked under his clothes for most scenes, but you can still see it up by the base of his neck. I wonder what that was about and why no-one in wardrobe or the continuity people caught it....

2. Kim Manners REALLY knew how to film Jensen. Seriously....I don't think there's a single shot in that episode where Jensen is not featured on some stunning angle or some stunning close up. I know, some of you might say "there is no bad angle with Jensen", and you may have a point, but I still stand by the fact that Kim Manners really knew what he was doing when it came to filming Jensen, because DAMN.

3. That being said, when Dean and Sam are arguing on the street, the angle used makes Sam look like a giant! Which he is...but DUDE. What was Jared here? 23? 24? Whatever age he was, I think the beginning of S2 is the point where he started to turn into Gigantor. Let me get my screen caps here....




JUST LOOK AT THE SIZE OF HIS HEAD!

Also, this is episode is the first appearance of the shirt everyone loves to hate: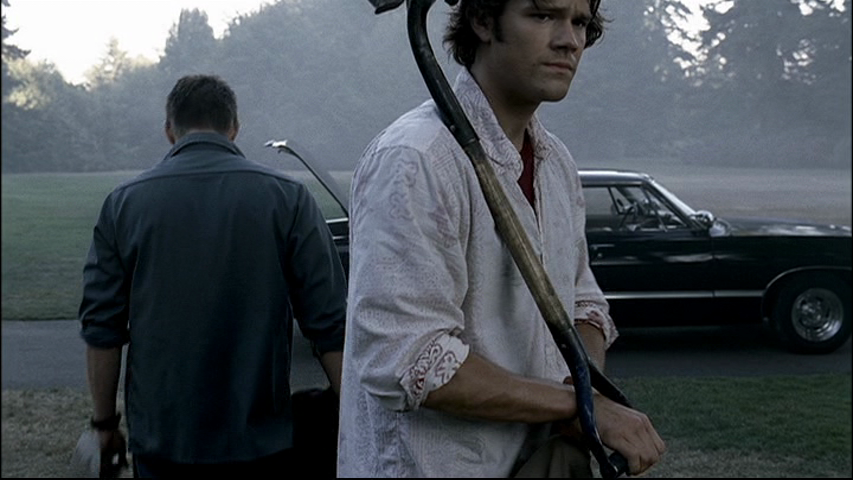 ....mmm, Dean shoulders.... Oh, sorry, got distracted there. Look at Sammy! He's all sad because we don't like his shirt...also, he broke his hand. 

I've had a completely unproductive day, besides capping this episode.