Things of mine you might want to check out:
Hells Half Acre's Supernatural Time-Line: The only accurate Supernatural Time-Line on the Internet....in my opinion.

Master List of my Fanfic

Master List of my Meta

If Clothes Could Talk - a catalogue of Sam and Dean's clothes throughout the seasons (this project is ongoing - S1-S6 complete)

This journal is public with an occasional f-locked personal-life post. The only rule is that I like to keep things positive - so any negativity or mean-spiritedness will be frowned upon. I like to like things.
Hello!
It is now posted:
Season 8 timeline
.
I've also greated a
Timeline Master Post
, because I was sick of not having just one post to link people to. So, if you want to check it out and/or bookmark it for future reference, knock yourself out.
Off to go update the links at the SuperWiki now... and possibly have dinner first, because it IS 11pm. (I've been having sleep/neighbour issues this week)
For those wondering about the idiosyncrasies of different seasons - I will tell you that this season ignored driving-times more than any other season has. It's like after seven years, the writers just decided to say "f*ck it!" and now Dean and Sam can make a 7 hour drive in 10 minutes. :P
Also, for anyone concerned about the large number of "unknown" dates towards the end of the season - sometimes those get cleared up when the new season starts, so it might just be a case of waiting until the fall. That being said, a lot of the time the timeline-continuity also gets super screwed up when they start a new season, so it may also get worse. We'll all just have to cross our fingers.
ETA:
Also, as per usual, if you see a mistake in the timeline, let me know! I'm only human.
I was super efficient today and not only did I do my laundry, I also finished the S8 timeline.
Current Mood:

hungry


Random question:

Does anyone know of a good proxy add-on/program that allows people outside the US to watch geo-locked streaming content? I use expat shield for the BBC, but I don't have one for the US. I tried the google add-on "stealthy" but it wouldn't work for me. Does anyone have any suggestions?

Oh, by the way: I have internet again! YAY! Finale two episodes are downloaded... and it's also a long weekend here in Canadaland, so I'm hoping to have my S8 timeline up by Monday. :)
Hey Everybody,
Current Mood:

curious


It also means that my S8 Timeline will be delayed, since I haven't been able to download and rewatch the episode (I also have to check something in 8x22 that I forgot to record the first time).

It's a problem with the service-provider's servers, so I'm not sure how long the problem is going to persist, but it's already been 24+ hours. I am not amused.

I can sometimes get a slow-wifi link to an neighbour's open wireless - but the connection isn't reliable and very slow.
Hey, just a quick note to tell everyone that I've temporarily lost internet at my apartment. So, if I take longer to respond to comments than usual, that's why.
So, no rewatch while I type this up this week, as I'm back to watching it at my friend's place while drinking copious amounts of wine and then walking home and trying to remember everything.
ETA: Oh man, I had this typed up nearly an hour ago, and then my internet went out... hopefully it stays around long enough for me to post...
Let's get started...
(
Heaven and Hell are here on earth.
Collapse
)
As usual, tell me what I missed (I'm guessing a lot) and let me know what you want to discuss further in comments!!!
I'm expecting an explosion of feelings at the Asylum convention this weekend.
Holy crow... okay...
Current Mood:

enthralled

Current Music:

One and the Same by Everlast


Well, okay, he was way too happy to be Kevin Tran, so really, it was Osric Chau.

No interaction, I just saw him. I had a little heart attack as I usually do when I see someone where I didn't expect to see them and it feels like I've been plunged into a parallel dimension for a brief second, but I didn't even break stride. I had samosas to buy and Oscric had a companion to laugh with, those are better things to accomplish than having awkward conversations.

In related news: Vancouver is a pretty rad place to live, really, even when it's a miserably rainy day.
I just saw Kevin Tran at my grocery store. :)


Anyway, since most of the fic over on AO3 is Sterek fic, I've been reading that.

My problem is that there are these really lovely first-time fics, but inevitably, they all end either before Sheriff Stilinski finds out, or, even more infuriating, they end right after that, but before Derek has to come over for the obligatory awkward "meet the parent who once arrested you for murder" lunch/dinner/brunch.

It's kind of driving me crazy, because goddamn it, I like stories where people's opinions of each other change and I really really want to SEE that meeting. In my opinion, it's a really bad writing choice to end the story on the "I love you, and by the way my dad wants you to come to dinner" line, because that's not a resolved ending to the fic, that's a "why isn't there another chapter?" ending to the fic.

So, my questions to anyone on here that is in the Teen Wolf fandom:

1. Do you have any recs about Sheriff and Derek actually having the awkward "I'm dating your son and I'm not actually a murderer...or well, not for the murder you thought I did" discussion?

2. Is there a Teen Wolf equivalent of spn_storyfinders (or a similarly functioned tumblr fic-blog) so that I can put a request in for Sheriff and Derek stories?

Now, to be fair, I have read a couple of fics that DO address the Sheriff and Derek meeting really well, so it's not ALL fics... but that just makes the majority of fics that skip this scene really f*cking annoying. Unfortunately, because I've gone on such a Teen Wolf fic binge the last few weeks, I can't actually remember what those stories were... I know one of them had Derek hanging out at Stiles' house and eating meals with them until the Sheriff actually put it together about what Kate did. Another one didn't really have a Sheriff+Derek moment, but it was told from the Sheriff's point of view and it had him briefly conclude that Derek had PTSD and that him hanging out with teenagers was actually him hanging out with people his own age. Anyway, I want more stories like those.
As some of you know, I've been reading Teen Wolf fanfic recently. I don't actually have any immediate plans to watch the show (I'm going to give White Collar a try first, and maybe see how Tumblr reacts to TW S3).
(Once again, I'm rewatching while I type this up, thanks to house-sitting at a place with a PVR. Next week I'll be back in my own apartment though and doing my quick reaction from memory.)
(
...with dirty hands and worn out knees...
Collapse
)
As usual, discussion in the comments is most welcome! I have to admit that I had a particularly horrible day at work, so I'm not sure my brain is properly in thinky-mode at the moment. I kind of feel a bit fried with trying my best not to rage quit my job.
Okay, so this episode was soul-crushing....
Current Music:

Crawling Back to You by Tom Petty
As usual:
1)All information comes from my own
timelines
.
2)I use chronological time, rather than the "soap-opera" time that the show uses.
May 2
19
73 - John Winchester proposes to Mary Campbell...and then Mary makes a deal with a Yellow-Eyed demon to save John's life.
~May 1978 - The angel Anna attempts to kill Mary. Two strangers from the future save her, and then claim to be her sons. She then gets her memories erased. She's already pregnant with Dean.
1983 - Sam Winchester is born! And he is ADORABLE!
2006 - Having just successfully saved his brother from heart failure, Sam is dragged to Missouri (the state) to deal with a racist killer truck. Sam turns 23.
2007 - Sam is resurrected from the dead on his 24th birthday...and he is still ADORABLE! Dean hugs him. Sadly, Dean sold his soul to bring him back, and Sam isn't very happy about that.
2008 - Dean is torn apart by Hell Hounds while Sam watches helplessly. As far as birthday's go, I'm willing to bet Sam's 25th birthday is the worst.
2009 - Sam tries to keep Jimmy Novak safe after Castiel gets dragged out of his vessel. Jimmy gives Sam the slip while Sam is feeding his demon-blood addiction...it's really all downhill from there. Sam turns 26.
2010 - We never find out when Swan Song takes place, but by my calculations, it was probably very close to Sam's 27th birthday. Perhaps Sam and Dean had one last chance to celebrate before Sam sacrificed himself. Perhaps it was already too late by the time Sam's birthday rolled around, and Dean raised a glass to his brother all alone in Cicero, Indiana....or perhaps the day got lost in the swirl of planning, and demon killing, and final goodbyes.

2011 - Similarly, we don't know when Dean discovered Sam's return. But in 2011, it's safe to say that Sam's body was topside, hunting with Samuel and perhaps seeing Dean for the first time in a long year. Meanwhile, Sam's soul was still suffering. Sam is 28.
2012
- A fully restored Sam and Dean celebrate Sam's 29th birthday with Bobby in South Dakota after the events of My Heart Will Go On.
2013
- Sam and Dean bid farewell to Charlie Bradbury after successfully pulling off a heist. Sam turns 30, while they try to figure out what's so special about a suitcase full of clay.
2014
- Amelia surprises Sam with a birthday picnic in the park for Sam's 31st birthday. Sam isn't quite sure how to react. Meanwhile, Dean is wandering around Purgatory with Cas and Benny trying to find the exit.
2015
- ???
HAPPY BIRTHDAY SAM!!
*Throws glitter*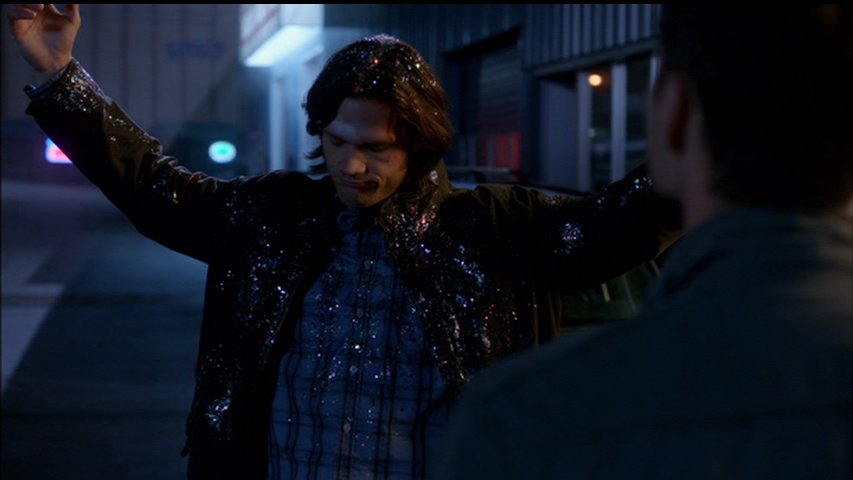 Time to update my Sam's birthday post! Sam is 30 years old on May 2nd, 2013... but how old is he in the show?
Just like last week, I was able to watch the show on the east-coast feed and PVR it... which means that I can actually watch it back when I type this. (And timeline as I go.) I'm also going to be eating dinner though, so most likely by the time I finish, it'll be just like I watched it on the west-coast feed like normal.
I should warn you that I'm also exhausted and most likely going to drink while I eat dinner - so...yeah... I'll probably be channeling some of our more run-down intrepid heroes....Therefore, you will actually get song lyrics this week, because I was singing this song anyway...
(
I'm so tired, my mind is on the blink
Collapse
)
I hope you all enjoyed the episode as much as I did! Let us now discuss it in comments!!
Man, Edlund always brings the goods, doesn't he?
Current Mood:

impressed

Current Music:

So Tired - John Lennon